Congratulations toTulsi Gabbard! The First Hindu In US Congress, Uses Bhagavad Gita At Swearing-In -
http://americatogetherfoundation.blogspot.com/2013/01/congratulations-to-hindu-congresswoman.html
As an American I am proud of this moment, this is what America is all about. We are God's own country and is reflected by respect for every one and represented by every one.

The days are not far when every American representing every faith will be able to do this.
Indeed, we are one nation under God, indivisible with liberty and justice for all. We are represented by every race, nationality, ethnicity, language, culture and religion. We see God as one, none and many and in every form; male, female, genderless and non-existent, being and non-being, nameless and with innumerable names. Americans together are committed to preserve this pluralistic heritage of America.

As an Indian and a Muslim, I am proud of this moment, where all of God's creation is respected.

Mike Ghouse, President


America Together Foundation
Committed to building a cohesive America
2665 Villa Creek Dr, suite 206, Dallas, TX 75234
Workshops | Radio Shows | Seminars | Lectures
...........................................
Rep. Tulsi Gabbard, the first Hindu in Congress, participates in a ceremonial swearing-in administered by Speaker of the House Rep. John Boehner.
The Bible and Torah have long been used at swearing-in ceremonies for members of Congress and have been joined by the Quran in more recent years, but this week marked the first time the Bhagavad Gita was used.

Hawaii Rep. Tulsi Gabbard, the first Hindu to join either chamber of Congress, used the sacred text from her faith in a ceremonial swearing-in conducted by Speaker of the House John Boehner (R-Ohio).
"I chose to take the oath of office with my personal copy of the Bhagavad-Gita because its teachings have inspired me to strive to be a servant-leader, dedicating my life in the service of others and to my country," said Gabbard, who served in the Iraq War, after the swearing-in. "My Gita has been a tremendous source of inner peace and strength through many tough challenges in life, including being in the midst of death and turmoil while serving our country in the Middle East."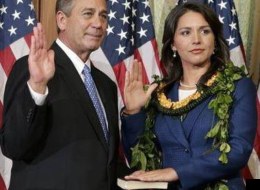 While no religious ceremony is legally required for those elected to Congress and the Senate, many choose to take oaths of office over Christian and Jewish texts, and Minnesota Rep. Keith Ellison, a Muslim, took his oath over a Quran. But Gabbard's choice of text is symbolic of growing religious diversity of Congress.
A new Pew forum analysis of faiths of those in Congress released Thursday shows that while Congress is mainly Protestant and doesn't exactly mirror the nation's religious diversity, recent elections have brought it to gradually increase its share of non-Protestant members. The analysis found that Congress trails in its share of theone in five Americans who claim no religion.
Gabbard, 31, was born in American Samoa, and raised by a Catholic father and a Hindu mother. She moved to Hawaii when she was 2 and joined the Hawaii Legislature in 2002 at age 21. She served in the Hawaii National Guard the next year and, in 2004, went to Baghdad to be a medical operations specialist. In 2008, she was deployed to Kuwait to work with the nation's counterterrorism trainees.
Gabbard chose to embrace the Hindu faith after her mother started practicing it when Gabbard was a teen. The congresswoman-elect, whose first name refers to a tree that's sacred to Hindus, follows the Vaishnava branch of Hinduism, which focuses on the Supreme Lord Vishnu and his 10 main incarnations.
Largely made up of Indian-Americans, the Hindu population in the United States is between 600,000 and 2.3 million. Unlike most Hindus, Gabbard is not of Indian heritage. Her father is Samoan and her mother is a convert to Hinduism.
During her swearing-in using the same Gita Gabbard kept while in Iraq, she reflected on her diverse upbringing and the role it played in her faith.
"I was raised in a multiracial, multicultural, multi-faith family. My mother is Hindu; my father is a Catholic lector in his church who also practices mantra meditation. I began to grapple with questions of spirituality as a teenager," Gabbard said. "Over time, I came to believe that, at its essence, religion gives us a deeper purpose in life than just living for ourselves. Since I was a teenager, I embraced this spiritual journey through the teachings of the Bhagavad Gita."
"In so doing, have been blessed with the motivation and strength to dedicate my life in service others in a variety of ways," she said.
Gabbard takes the seat of Sen. Mazie Hirono, a former Hawaii representative who is the first Buddhist in the Senate.

Mike Ghouse is a
speaker
, thinker and a
writer
on
pluralism
,
politics
, peace,
Islam
,
Israel
,
India
,
interfaith
, and cohesion at work place.
Standing up for others
has been his talk and the practice. He is committed to building a
Cohesive America
and offers pluralistic solutions on issues of the day at
www.TheGhousediary.com
. Mike has a strong presence on national and local TV, Radio and Print Media. He is a frequent guest on
Sean Hannity show
on Fox TV, and a commentator on national radio networks, he contributes weekly to the Texas Faith Column at
Dallas Morning News
, fortnightly at
Huffington post,
and several other periodicals across the world. His personal site
www.MikeGhouse.net
indexes all of his work.